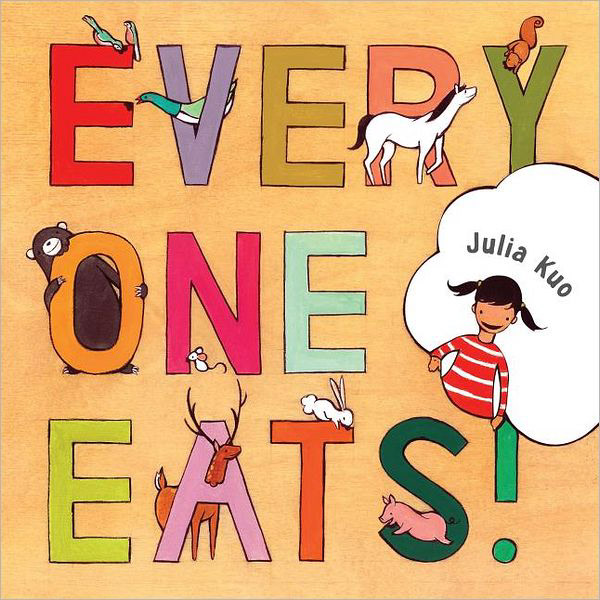 Everyone Eats!
Written by Julia Kuo
pub. November 5, 2012

From rabbits to birds to mice, this board book features a wide variety of cute critters and the scrumptious foods they eat. And all the things the animals eat—carrots, berries, seeds—can be eaten by a toddler, too!

NOTABLE REVIEWS

Looking very contemporary in an old-time way, the visually striking "Everyone Eats!" feels like the kind of book you'd pick up at an organic children's clothing store. Simple sentences ("Rabbits eat carrots," "Bears eat honey," etc.) are paired with charming painted-on-wood – or digitally drawn to look that way – illustrations. Touches of wit and hints at magic permeate what is otherwise a straightforward guide to healthful eating. A foursome of bright pink pigs forage for red polka-dotted toadstools that look like something out of an enchanted forest. On the opposite page, a plate of mushroom-topped pasta is accompanied by a can of mushroom soup and the simple phrase, "Pigs eat mushrooms." A horse sniffs at red apples growing from a blue-tinged tree. It's better than hay.